Welcome To The
Bon Air Motel
For convenience, we also have plug-ins for winter use (also available for trucks & transports).
Free high-speed internet & access to fax machine, photocopier, etc.
Our rooms feature the Simmons Beautyrest® Mattress to guarantee superior comfort.
We offer a complimentary continental breakfast, in-room coffee and we're in close proximity to many restaurants and grocery stores.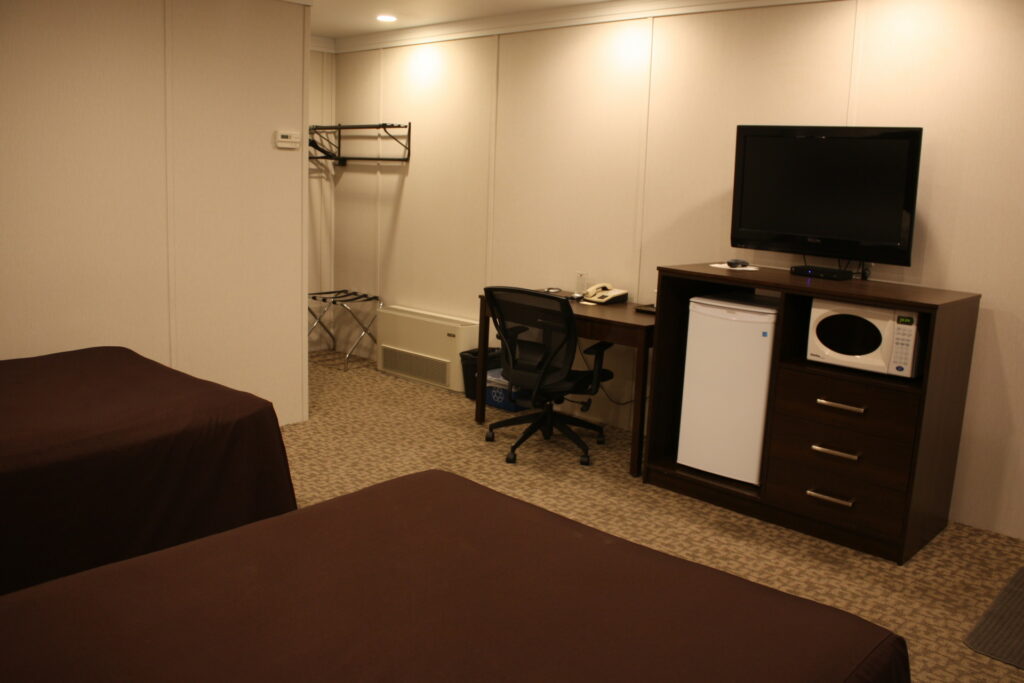 Good Rest On our way to Quebec travelling with family needed a good nights rest after long day of driving. Room was clean and modern lay updated. Usual amenities coffee maker blow dryers fridge. Bed was pretty comfortable and had no problem getting a good nights sleep. Our room was away from busy st too so no noisy cars and semi trucks going by all night.
Outstanding I've stayed in a lot of motels, and this one was top-notch. I commented to the staff about the clean renovations, expecting it was new, and they informed me it was done three years ago! Would stay again,
Rood was good but un-secured parking area Room was clean and friendly service. Travelling on motorcycle and park right to the door. No place to sit outside, view was very industrial like. There was too much local traffic walking through the un-secure parking lot, even after the store were closed. Felt unsafe.
improved This is a good place is you want to drive up to your room. The place is clean and they've gotten rid of the smoke smell. Staff always helpful and nice. Hopefully you don't get the odd 'lost" night visitor knocking on your door….would be nice if there was a peephole. the odd time there is some rowdy neighbors but decent place for a short stay.
A good place to sleep Stayed a night on business. The room in cell block D was recently renovated, clean, new toilet and tiles. The bed was lumpy but firm. The noises from parked running transports at the motel parking lot and unloading all night at the grocery store next door are almost as annoying as the retro icemaker in the back hall that needs new bearings and rattles all night long. Otherwise an ok place, however the rooms are just as much here as at the new major chain hotels in town. Parking at your door is convenient.
overrated and overpriced! We just came back from a two night stay in Timmins to attend our grandsons' hockey tournaments. The team had a block booking at the Bon Air so we booked there too. The website advertised newly renovated rooms and complimentary breakfast. The bathroom was completely new and clean; the rest of the room had an omnipresent musty smell that made our stay less pleasant than it should have been. It just did not feel clean. If you think you're getting a complimentary breakfast, think again. Their idea of breakfast is takeout coffee and a granola bar. You have to go next door to Mike's restaurant for breakfast where they serve a good breakfast, but it's not compliments of BonAir. Management would not consider offering a discount for the room even though their website obviously has misleading advertising as far as breakfast goes. A plus for the Bon Air is that the rooms are quiet with there being no hallways and no floor above you. However at the rates the Bon Air is asking it is less expensive to stay at the Holiday Inn or Hampton Inn, and your room might be cleaner and smell better too.
Awesome!!! Spent the week in Timmins for Stars and Thunder, I was happy to stay at the Bon Air. The price was higher than usual but all the hotel were having higher prices anyway. I had no fees for parking and the show was next door, so I was able to see the fireworks from my window after all day seeing bands. The room was newly renovated and the staff was very nice. They also had security on the property to ensure our security during the night. So I felt very safe and enjoyed my time very much. I give them two thumbs up !!!!
An establishment that does not respect its confirmation price I reserved two rooms during the Stars and Thunder event, june 24 and july 1 in December. At that time, the programmation of the event had been announced. The confirmed price I received was 133$ per night. So I booked the rooms. On June 25th when I checked out, the Bon Air did not respect my 133$ night and attempted to charge 199$. I had by confirmation sheet so they respected the 133$. However, during the week, I received another confirmation for my July 1st reservation and it was increased to 199$. They are not honest. The room is so so. I kept my shoes the whole time since the carpet did not seem clean. I will never go back there.
Jacked up prices because we were walk ins We decided to try a stay at this hotel today because it was so close to the fireworks festival going on this week. Prices online listed rooms for 115$ We decided to just stop in and see what kind of price we can get at the desk seeing as the lot was empty and the lady at the desk said same room was 169$ and admitted she was raising it because of the festival. We should have booked online grrrr!! She would have had to honor the price. She would not even budge! Sad thing is the price to book online is still 115. All other local hotels private and chains had lower advertised prices. Poor customer service and a bad example of price gougeing. Got an amazing room down the street at a reasonable price instead.
Good motel I stayed here a few years ago. I was still living in Iroquois Falls and was taking a Tisdale tours bus to Toronto early in the morning, so I stayed overnight instead of driving an hour early in the morning. The room was clean, little to no noise as I was in one of the rear buildings away from traffic noise. Tim Hortons right across the street, Mikes next door and downtown only a 5 minute walk away; can't ask for better. It was a basic motel, but unlike other motels that are notoriously unkempt, this one could compete well with big hotel chains. Great stay if you don't want to break the bank.